Good morning. This literally just in: Astra says it has inked a multi-launch deal with Spaceflight Inc. The first of the launches is planned for today, March 14, at 11:22 am ET from Astra's Alaska spaceport, but could shift to tomorrow depending on conditions at the Kodiak launchpad.

Today's newsletter:
⚡ Viasat Europe update
🚗 New rover
🗓️ The week ahead
🤠 Payload @ SXSW
Was this email forwarded to you? Sign up here.
---
Venturi Astrolab has emerged from stealth with a lunar rover modular concept—and a prototype to boot. The rover, named FLEX (short for Flexible Logistics and Exploration), is designed to transport crew and cargo across the surface of the Moon. If it works there, the company also hopes the rover will be used on human missions to Mars.
Lunar transportation: Astrolab is positioning itself to be the go-to provider of last-mile transportation services as humanity preps a return to the moon and the buildout of a lunar colony. "Companies like SpaceX and Blue Origin are solving the long haul transportation problem, and we want to solve the local transportation problem—and ultimately set the standard for lunar logistics," Venturi Astrolab CEO Jaret Matthews told The Verge.
The startup hasn't announced pricing information, but plans to charge based on services provided rather than by vehicle.
Key design features:
Modularity, so operators can adjust for how much cargo needs to be transported
Underbelly storage, easily enabling the rover to pick up and drop cargo
Semi-autonomous driving, to accommodate human passengers or rem operation
The startup has already performed a test-drive of the prototype around California's Death Valley, which yielded some pretty incredible photos. Two drivers operated the rover in the desert and tested its cargo transportation and solar panel-setting capabilities.
Right now, the prototype is built for Earth gravity and conditions, but the company says the final design will be tailored to the lunar environment.
The company has reportedly already begun conversations with NASA and SpaceX, and is hoping to begin sending prototype rovers to the lunar surface in the coming years.
---
Western intelligence sources have confirmed to Reuters that a broad cyberattack disrupted Viasat broadband satellite internet services in and around Ukraine. Though sources declined to say who carried out the attack (or, at least, definitively make an attribution), the timing gives us some hints. The cyberattack began when Russian missiles started flying into Ukraine and forces started pouring over the border.
The report sheds more light on Viasat KA-SAT outages across Europe, which were first publicly revealed at the end of February. The breach is of particular interest to the NSA, French cyber agency ANSSI, and Ukrainian intelligence officials because Viasat has inked deals with Western militaries (including Ukraine's armed forces and various intelligence services).
Viasat's internet services could be defined as dual-use technology—which means they could have a target painted on their back in wartime.
"Traditional land-based radios only reach so far. If you're using modern smart systems, smart weapons, trying to do combined arms maneuvers, then you must rely on these satellites," a former coder for US Special Operations Command (SOCOM) told Reuters.
What we now know
Tens of thousands of Viasat satellite terminals in Europe went dark following an attack that started between 5am–9am on Feb. 24. More than two weeks later, "some" modems "remain offline," resellers and European telco execs told Reuters.
One issue? In-situ repairs.Shipping over-the-air software updates may not be sufficient to restore service on some compromised devices. Many will reportedly require reprogramming by a technician on-site or at a repair shop. And some need to be physically swapped out.
What next? When pinged by Reuters for comment, Viasat referred to the outages as a "deliberate, isolated, and external cyber event" and says it's working to restore connectivity ASAP. Viasat has contracted Mandiant to probe the breach, Reuters reports. (FYI, Mandiant has been in headlines recently because Google agreed to acquire the cybersecurity firm in a ~$5.4B deal.)
+ Want more? Payload recommends reading Reuters' extensive investigation in full. Also, check out this SpaceNews writeup with a US general's congressional testimony on how LEO megaconstellations could prove more resilient to jamming and hacking.
---
In Other News
---
The Week Ahead
Monday, March 14: SXSW continues in Austin and runs through Sunday. Reminder: 50% of the Payload team is on the ground for South By, and we'll be here for the rest of the festival.

Separately, the Paris Space Week conference kicks off and extends through Tuesday. And finally, NASA is hosting a media briefing today, in advance of the SLS wet dress rehearsal.

Tuesday, March 15: Two of the American crew members on the ISS will conduct a spacewalk. And POTUS is expected to sign the FY 22 omnibus spending bill, which will fully fund the US government for the rest of the fiscal year.

Thursday, March 17: NASA plans to roll SLS out to the launch pad for the first time. The 322-ft-tall rocket will travel the four miles between NASA Kennedy's Vehicle Assembly Building and Launch Complex 39B, in a trip expected to take between six and 12 hours.

Friday, March 18: Roscosmos will launch three Russian cosmonauts to the ISS aboard a Soyuz rocket. SpaceX also plans to launch a batch of Starlink satellites to orbit. In DC, the National Space Club and Foundation is holding the 65th Annual Dr. Robert H. Goddard Memorial Dinner.
---
The View from ATX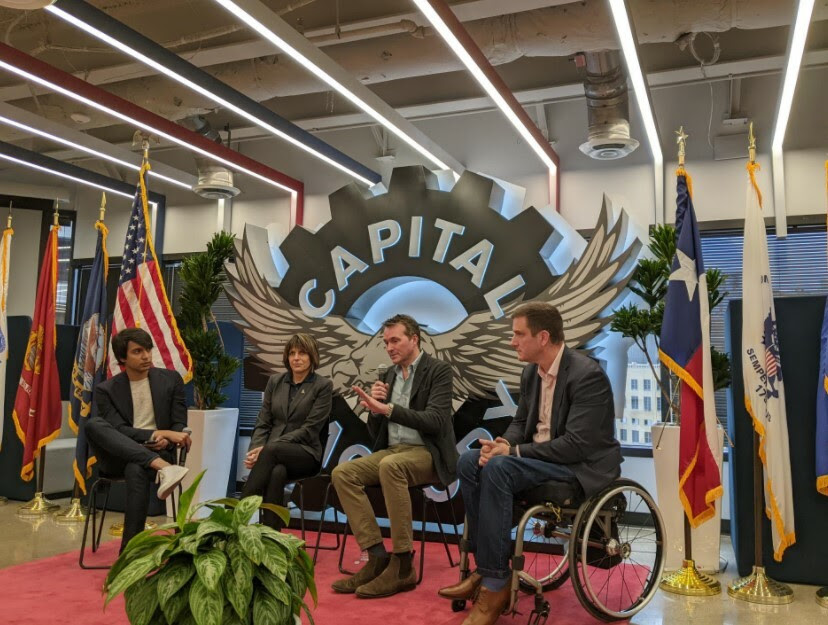 Our very own Mo Islam moderated the "Space Force: More Than a Meme" panel at SXSW yesterday. Many thanks to Capital Factory for hosting us for the great discussion. Speakers, from left to right:
Mo, cofounder and CEO of Payload
Maj. Gen. Kim Crider (Ret.), head of Deloitte's government and public services unit's AI practice (and former CTO of USSF)
Eric Fanning, CEO of the Aerospace Industries Association (and former 22nd secretary of the US Army)
Dr. Bill Conley, SVP and CTO of Mercury Systems (former director of electronic warfare for the secretary of defense)