Good morning, and happy Monday, especially to the 22 new readers who joined Payload over the weekend. We're excited to have you on board.
In today's newsletter…
🛰️ Monster missiles and spy satellites
🚀 Vega's supply chain
📅 A busy week ahead
Was this email forwarded to you? Sign up here.
---
A screenshot of NK Pro's before-and-after analysis of Feb. 12 and March 17 Planet satellite imagery overhead a site near Pyongyang. Image via NK Pro.
North Korea claimed to launch Hwasong-17 on Thursday. Analysts have described the ICBM in question as a "monster missile."
In Pyongyang's telling…
…the mega-ICBM, first unveiled at a military parade in Oct. 2020, was test-fired Thursday.
The missile reached an apogee of ~6,200km, per the South Korean military, which would represent a new record for the hermit kingdom's ballistic missile program. In other firsts, the monster missile is believed to be the world's largest road-mobile liquid propellant ICBM.
Side note: Kim Jong-Un starred in an absolutely bizarre Hollywood-esque hype video for the monster missile. State-run media mouthpieces broadcast the propaganda, which also made the rounds on Western news networks and social media platforms.
Why hedge with the language?
Some experts and Pyongyang watchers are disputing that the launch was successful. Colin Zwirko, a senior analyst at NK News, wrote Friday that "multiple pieces of visual evidence suggest North Korea's version of events is misleading at best, and possibly a complete fabrication of a successful Hwasong-17 test at worst."
A missile launched Thursday traveled ~1,080km over the course of 71 minutes, from a launchpad near Pyongyang into the Sea of Japan, per the FT. But senior government officials in Seoul believe the missile may have in fact been the smaller Hwasong-15, South Korea's Yonhap News Agency reported.
The Hwasong-17 may have been misfired nearly two weeks ago. In mid-March, a missile exploded at an altitude of ~20km after launching from somewhere near North Korea's capital.
The space angle
South Korea and allies' assessment was shaped by classified intelligence capabilities, including a thermal sensor-equipped satellite, per Yonhap. And Zwirko's analysis, which you should read in full, draws extensively on Planet imagery to show how Pyongyang's version of the story might not pass muster.
The bigger picture: Without the resources of nation-states or their spy agencies, private actors can track troop movements, ICBM staging, and other geopolitical developments using public data.
We're in the golden age of OSINT via satellite. As we wrote on the eve of Russia's invasion of Ukraine…"What was once private can now be shared for the world to see in plain sight."
---
Arianespace's Vega C rocket's upper stage uses engines built by Ukrainian space contractor Yuzhmash, Stéphane Israël, Arianespace CEO, said on a panel at Satellite last week. The company has three engines in storage, ESA officials said March 17. That's not much of a strategic stockpile, especially as doubts linger that the Europeans will be able to procure more.
Losing access to Soyuz has thrown a monkey wrench into Arianespace's 2022 plans. Several launches that were set to ride with Soyuz must now find new tickets to space.
One option is to move launches to the Vega C, which has a maiden flight planned for May.
ESA is working on building its own M10 engine for the future Vega E rocket, which is targeting 2025 for its first flight. Israël said there's "no need" to accelerate the Vega E's development.
A vote of confidence? Avio is Vega's primary subcontractor. On Friday, the Italian space company said "no specific impacts on Vega and Vega C continuity of operations are foreseen in the medium term." Procurement of Ukrainian-made parts for Vega and Vega C began "several years ago" and will cover launches expected through 2026, Avio said. 
---
In Other News
---
The (Busy) Week Ahead
Launches, earnings szn, and Payload IRL.
Monday, March 28: Biden is expected to submit his FY23 budget request to Congress; Nelson will deliver the 'State of NASA' address; and delegations from Kyiv and the Kremlin are kicking off three-day talks in Turkey, as war in Eastern Europe extends into its second month. 
Payload is co-hosting a networking drinks mixer at the Luxembourg Consulate in NYC with Bradford Space and The Luxembourg Trade & Investment Office in New York. Come join us!
Tuesday, March 29: Blue Origin will launch NS-20, its fourth crewed suborbital mission. Another launcher, Virgin Orbit (NASDAQ:VORB), will report Q4 and FY 21 financial results after the bell.
Wednesday, March 30: Mark Vande Hei is set to return to Earth from the ISS on a Soyuz after 355 consecutive days in space (which is a US record). Two Russian cosmonauts will also make the return trip. Separately, the House Space, Science, and Technology subcommittee on Space and Aeronautics will hold a hearing on transitioning space situational awareness to a civil capability.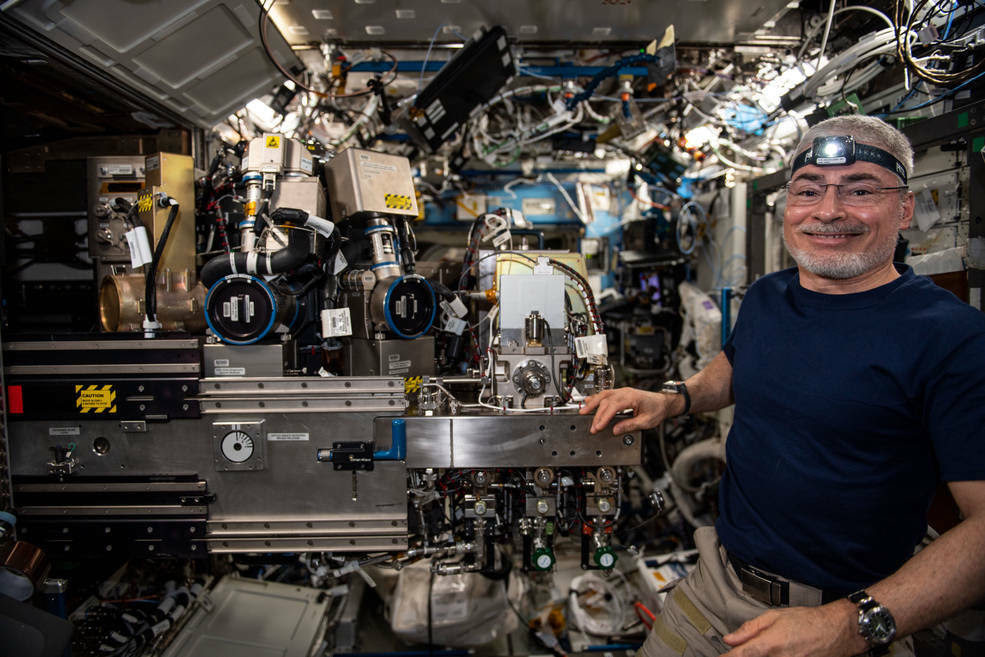 Thursday, March 31: Planet (NYSE:PL) and Astra (NASDAQ:ASTR) will release their FY2021 and Q4 financial results after the bell. AST SpaceMobile (NASDAQ:ASTS) will provide a quarterly business update at 5PM ET.
Friday, April 1: Rocket Lab (NASDAQ:RKLB) will launch two BlackSky (NYSE: BKSY) birds, in a dedicated mission procured via Spaceflight Inc. The Electron is set to take off from RKLB's Launch Complex 1, Pad A. SpaceX will also launch its Transporter-4 mission to sun-synchronous orbit on a Falcon 9.
Sunday, April 3: Axiom and SpaceX will launch Ax-1, the first ever all-private astronaut mission to the ISS. The wet dress rehearsal for Artemis I is also scheduled for Sunday.
---
The View from Space