Good morning. What's the worst chore at the International Space Station? Us Earthlings would like to know, and only ~250 people could actually, truly speak to life at the ISS.
Well, we're in luck—two astronauts gave us the lowdown. Tune in to tomorrow's Payload for the response.
In today's newsletter…
🚀 Ursa Major update
🏭 Ariane 6 upgrade
🔁 People on the move
Was this email forwarded to you? Sign up here.
---
Images: Ursa Major. Left: Hadley hotfire @ Ursa Major HQ in Berthoud, CO. Right: Hadley being prepped for shipment.
Ursa Major officially signed its 200th employee this week, CEO Joe Laurienti tells Payload. The Colorado startup, which bills itself as "America's only independent pure-play rocket propulsion company," had just north of 125 employees in early December when it raised $85M.
So, using some back-of-the-envelope math, headcount jumped 60% in just over a quarter. Ursa Major also tells Payload that 75% of its technical team has previously worked at SpaceX or Blue Origin (Laurienti was previously at both, working on the Merlin and BE-3 engines).
Beyond the recruiting binge…
Ursa Major's first production units have come off the manufacturing line. Two weeks ago, the startup said it's delivered one Hadley engine apiece to Phantom Space and Stratolaunch.
The company has 8–9 commercial customers, Laurienti tells Payload, and roughly a dozen government contracts.
Ursa Major counts Pentagon entities and prime contractors as customers, but that's about as specific as it will get. Laurienti declined to say who specifically is putting in Hadley orders.
…Hadley? Ursa Major's first product is an oxygen-rich staged combustion engine with 5,000 pounds of thrust. Ripley, Hadley's bigger sister, is 10X more powerful but still under development. Finally, there's Sneaky, which is Payload's name for a third-gen propulsion system that Ursa Major has teased but kept under wraps.
Flip the script
Ursa Major wants to turn the industry playbook of vertical integration on its head. Rather than build all or most of a vehicle, this horizontal integration evangelist is heads-down making liquid rocket engines for three verticals: 1) space launch, 2) on-orbit propulsion, and 3) hypersonics.
While this isn't a new idea, it has fallen out of favor over the decades. Laurienti gets pretty animated about the state of the US launch and defense industrial base.
Reacting to a recently blocked takeover deal, Laurienti says: "Aerojet has found a niche in repurposing very old technology because they have been the only player in town."
"Our current and potential DoD customers are excited about what Ursa Major can do," Laurienti says. Your consolidation is my opportunity, as the saying goes.
Impacts of the war
Ursa Major has estimated that $2.1–$2.4B of "immediate market vacuum" in launch was created from Russia's invasion of Ukraine. Soyuz isn't flying Western payloads, RD-180s are off the market, and Ukrainian engine-making has dropped to a standstill.
"We've actually received outreach from Ukrainian companies," Laurienti says. They've asked: "'Can we safe-harbor IP?' Nothing's advanced there yet, but the amount of outreach has been pretty overwhelming."
Time to ramp
Ursa Major delivered 4–6 pre-production engines over the last two years. Right now, it's at an engine every ~2.5 weeks, and by the end of Q2, Laurienti says "we will have delivered probably 12 engines this year." By the end of 2022, Laurienti says he's confident that Ursa Major will have made 30 engines and be producing them at a rate of one per week.
---
Image: Amazon, Arianespace, & Beyond Gravity. Compiled by Andrew Parsonson.
Amazon sent shockwaves throughout the space world yesterday. The largest-ever commercial launch deal gave a kick of nitrous to the European space machine.
Beyond the headlines: Arianespace won big, snagging its largest single contract ever. But that wasn't Europe's only winner: Amazon's dealmaking included the largest contract ever awarded to Beyond Gravity, the artist company formerly known as RUAG Space.
The company increased revenue by 15% in 2021.
Side note: The company just rebranded last month. Something tells us it wasn't a coincidence.
Arianespace Launches
Of the (up to) 83 launches, Arianespace snagged 18. The company will launch its share of missions aboard Ariane 64s carrying 35 to 40 satellites at a time.
16 of the 18 Ariane 64 flights will utilize the proposed P120C+ upgraded boosters that we wrote about yesterday. Approval for the booster upgrade program now appears to be all but ceremonial.
Dispensing Kuiper-Sats like Pez Candy
While the rocket makers are splitting the multibillion-dollar launch pot, Beyond Gravity gets the whole orbital deployment lot. The company will supply a scalable dispenser system for all of Kuiper's selected launch vehicles.
To fulfill this mammoth order, the company is building a new facility in Linköping, Sweden.
The new facility is planning its ribbon-cutting in 2023, preparing Beyond Gravity to double production capacity and create 60 new jobs.
Ripple effects: Beyond Gravity has said that it will source material and components from a broad European supplier base.
+ While we're here: Ariane 6 will launch 35–40 of Amazon's internet satellites on each rocket. Vulcan will hold 45 and New Glenn will carry 61.
---
🚨New Teammate Alert🚨
We try to be sparing with space clichés but today is a special occasion. We're *over the moon* to welcome Jess Lis as director of operations and Payload's fifth full-time employee. 
Jess will spearhead our new webinar series, scale up partnerships, pitch in with product development, and more👀. She'll also contribute editorially to the newsroom from time to time, so expect to see her byline soon.
Abbreviated CV: Jess honed her space chops as an intern at CSF, and later went on to work at BryceTech in London and Nomura Research Institute in NYC. She has a masters in tech policy from UCL. Currently, Jess also writes for Insider Intelligence on consumer tech.
Now, over to Jess…"I am excited to join such a great team building Payload. I can't wait to interact more with our readers! Space is going through a disruptive phase, and I'm thrilled to be a part of it."
---
In Other News
---
The Term Sheet
---
Payload Insights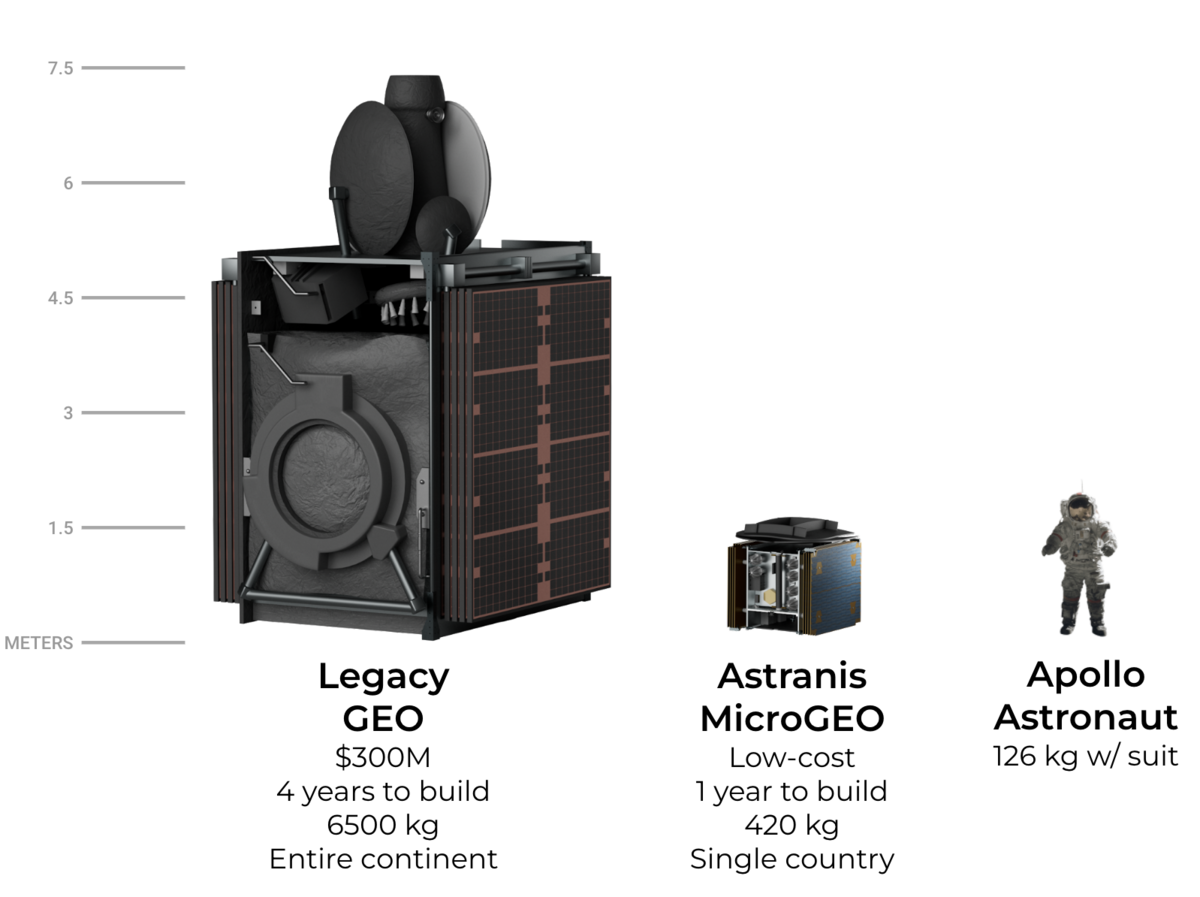 Astranis booked a dedicated 2023 Falcon 9 launch for four MicroGEO satellites, the startup announced yesterday. CEO John Gedmark said the move will help Astranis control its destiny, squeeze more performance out of the Falcon 9, and deploy closer to its intended orbit.
If the graphic above isn't doing it for 'ya, here's a 1-to-1 microGEO model from the showroom floor of Space Symposium: