Good morning. Welcome to the 57 new readers who have joined Payload since we sent the last newsletter.
New national spaceflight record: On Friday, China safely returned the three Shenzhou-13 astronauts to Earth after a six-month stay at the Tiangong space station. 
In today's newsletter…
💥 US ASAT ban
🔁 On the move
🗓️ The week ahead
Was this email forwarded to you? Sign up here.
---
The White House is instituting a self-imposed ban on direct-ascent ASAT, or anti-satellite, tests, VP Kamala Harris announced yesterday on a visit to the Vandenberg Space Force Base in California. The administration is hoping that other nations will agree to adopt the same ban in an effort to reduce orbital debris creation (and protect national and commercial US assets in orbit).
"Simply put, these tests are dangerous, and we will not conduct them," Harris said.
ASAT tests
In November, Russia fired a direct-ascent ASAT missile at a defunct Soviet satellite, exploding it into 1,500+ cataloged fragments. The resulting debris cloud came dangerously close to the ISS soon after, causing the crew to initiate safe haven procedures and shelter in certain modules.
The debris fields produced by ASAT tests can remain in orbit for decades, creating perpetual hazards for spacecraft and headaches for their operators. Debris still being tracked from a 2007 Chinese ASAT test still pose a threat to active satellites in orbit.
The Secure World Foundation (SWF) reports that there have been 16 total ASAT tests since 1968, generating over 6,300 pieces of debris.
Three of those tests were the US—in 1985, 1986, and 2008. All of the fragments created from those tests have deorbited, per SWF.
"Overall, these tests jeopardize the long-term sustainability of outer space and imperil the exploration and use of space by all nations," the White House said in a statement.
Global governments denounced the Russian ASAT test, with the US State Department calling the operation "dangerous, reckless, and irresponsible." Roughly five months later, the US says it's taking a unilateral first step to ensure further ASAT tests don't muck up the orbital environment.
The ban: Harris announced yesterday that the US will not conduct any direct-ascent ASAT tests, and encouraged other governments to institute the same ban.
"The United States, working with commercial industry, allies, and partners, will lead in the development of new measures that contribute to the safety, stability, security, and long-term sustainability of space activities," read the White House statement.
The ban doesn't extend to other types of ASAT testing. Countries have other kinetic and non-kinetic ASAT weapons at their disposal.
The upshot: The ban was applauded by SWF and Planet, among others. We'd imagine there are more endorsements to come, as ASAT strikes have been long denounced by the international space community. Still, this is the first formal commitment from a government to ban them, and hopefully other nations will follow suit.
---
SPONSORED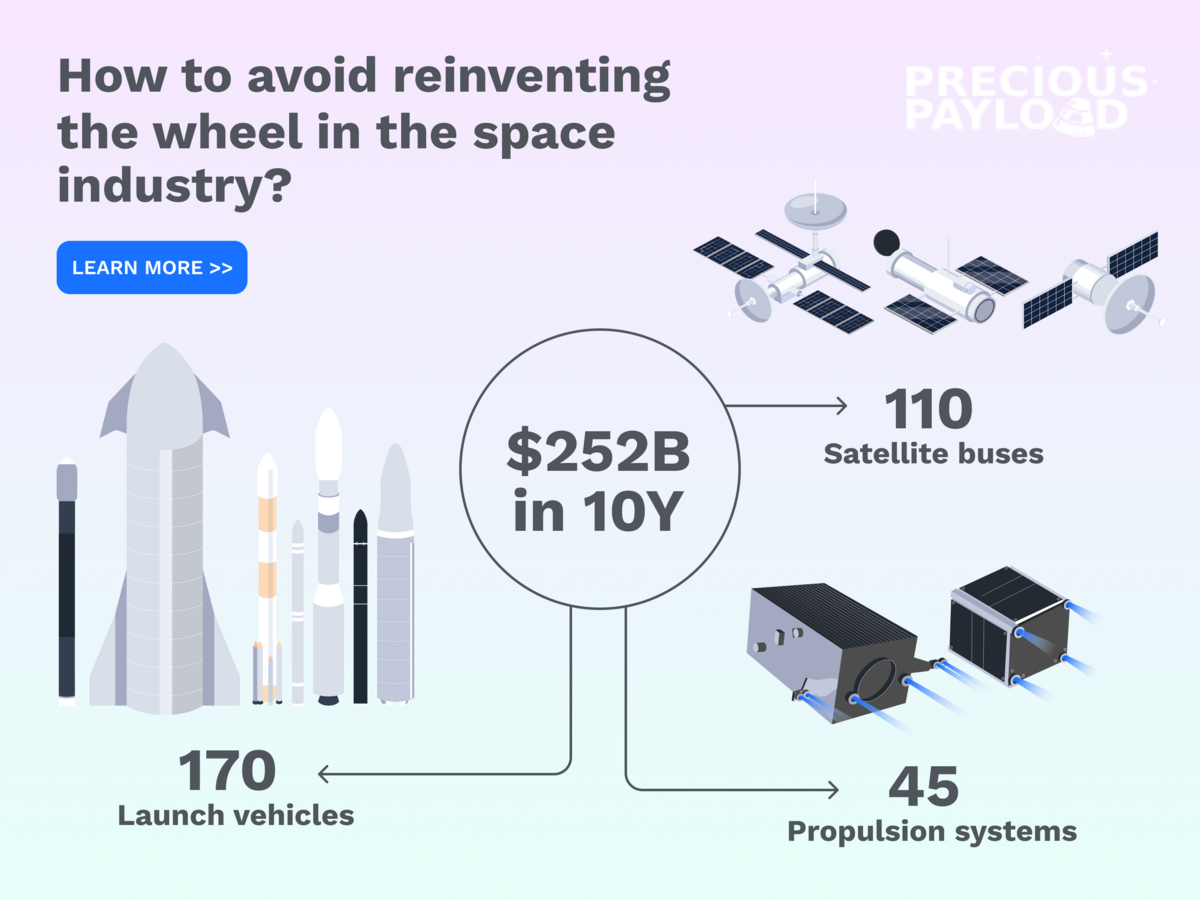 The space industry is still struggling to turn capital expenditure into sustainable operating margin, even with billions of dollars invested. This is due, in part, to the massive amount of rework that still exists with each and every new mission.
In simple terms, it would be like reinventing the PC, the mouse, and even the surge protector every time a new company is formed.
Learn more about Precious Payload's solution here.
---
In Other News
---
The Week Ahead
Tuesday, April 19: Iridium (NASDAQ:IRDM) and Lockheed (NYSE:LMT) report Q1 earnings at 8:30 and 11 am ET, respectively. The Ax-1 crew is now expected to undock at ~10 pm Eastern from the ISS, and splash down off the coast of Florida no earlier than 3:24 pm Wednesday.
Wednesday, April 20: Payload reporter Rachael Zisk will co-host Conversations for the Future, discussing the intersection of space and energy with leaders in the industry. Register for free here.
Separately, at 9 am ET, CSIS and SWF will hold "Tracking Developments in Counterspace Weapons" in DC (the event will also be livestreamed).
In Pittsburgh, the Keystone Space Collaborative Inaugural Conference kicks off and runs through Thursday.
Thursday, April 21: SpaceX is targeting a Starlink launch for shortly after 11 am ET.
Friday, April 22: At 9:30 am EDT, Payload CEO Mo Islam will moderate a Miami Tech Week panel with Hadrian's Chris Powers, Astranis's John Gedmark, Varda's Delian Asparouhov, and Planet's Kevin Weil. 
Separately, Rocket Lab plans to launch the "There and Back Again" rideshare mission from New Zealand, and attempt its first midair helicopter recovery of Electron. 
Saturday, April 23: SpaceX will launch the Crew-4 mission, sending three NASA crew mates and one Italian astronaut to the ISS on Freedom, a new Dragon capsule.
---
On the Move
---
The View from Space
NASA "holoported" flight surgeon Dr. Josef Schmid and Aexa Aerospace CEO Fernando De La Peña Llaca to space in Oct. 2021. Using a Microsoft HoloLens Kinect camera and a laptop running Aexa-developed software, ESA astronaut Thomas Pesquet chatted with live images of the two on the ISS. NASA called the exchange "the first holoportation handshake from Earth in space." Probably not the last?