Good morning. On Friday, Samuel Adams opened pre-orders for the Space Craft IPA, a beer made with hops that went to space aboard Inspiration4.
Aaaand…by the time we checked yesterday, the Boston beer maker's space IPA was sold out online. Can't say we're surprised.
Today's newsletter:
🛰️ KuiperSat-1 and 2
🏢 NASA reorg
🔁 On the move
---
Kuiper Preps Prototypes for Prime Time
ICYMI: Yesterday, Amazon subsidiary Kuiper Systems asked the US for approval to launch two demonstration satellites, KuiperSat-1 and KuiperSat-2. See the FCC filing here.
Amazon says the prototypes will include "much of the technology and subsystems" that will be in Kuiper production satellites. Over the course of two years, Kuiper will validate the satellites' tech stack on-orbit…and test links with customer terminals and ground stations in South America, Asia, and Texas.
Assuming the application is accepted, KuiperSat-1 and -2 will launch on separate ABL Space Systems RS1 rockets by Q4 2022.
ABL is aiming for a RS1 orbital launch before the end of this year. Though RS1 has yet to reach space, its builder has received votes of confidence from investors and customers. Last week, El Segundo, CA-based ABL announced a $200M raise at a $2.4B valuation. The small launcher has raised $420M since its 2017 inception.
ABL plans to charge $12M per launch. The company says it has active contracts with 14 customers, totaling 75+ launches.
Lockheed, an ABL backer, purchased a block of up to 58 launches from the company through 2029.
Launch strategy: Amazon isn't putting all of its eggs in one rocket basket. In April, the company purchased nine Atlas V flights from United Launch Alliance (ULA). Kuiper is also in talks with other launchers, including low-Earth orbit (LEO) rival SpaceX, Amazon VP Rajeev Badyal told the NYT.
SpaceX, by contrast, can (and has) put its Starlink eggs in one Falcon basket. The company has hoisted 1,700+ internet satellites into orbit, giving Starlink quite a headstart over competing constellations. For reference, SpaceX launched Microsat-2a and Microsat-2b, a pair of test Starlink satellites, in Feb. 2018.
---
NASA Announces + Implements Reorg
Yesterday, NASA merged two offices and announced leadership posts at the newly formed Office of Technology, Policy, and Strategy. The agency rationalized the reorg as a way to better serve White House space priorities and strategy.
Out: The Office of Strategic Engagements and Assessments and the Office of the Chief Technologist.
In: OTPS, the combined entity. OTPS will provide "data- and evidence-driven technology, policy, and strategy advice to NASA leadership."
The office's new leaders:
Dr. Bhavya Lal will lead the office as associate administrator, and will also serve as acting CTO.
Melanie Saunders will serve as the agency's new chief resilience officer, tasked with overseeing NASA's Covid response.
Casey Swails will serve as the deputy associate administrator for business operations.
Tom Cremins will serve as the associate administrator for space security interests.
Douglas Terrier, NASA's current CTO, will take a new position as associate director for vision and strategy at the agency's Johnson Space Center.
---
SPONSORED
Firefly Aerospace provides cost-effective, convenient access to space for both full-vehicle and ride-share missions. Firefly's Alpha launch vehicle is capable of delivering 1,000 kg to LEO and 630 kg to 500 km SSO.
Email [email protected] to discuss your mission!
---
In Other News
---
On the Move
Blue bird to Blue planet: Vijaya Gadde, Twitter's chief legal officer, is joining Planet's board of directors, as the company prepares to go public.
Satellite moves: Inmarsat named Philippe Carette as president of its Aviation Business Unit, effective Nov. 22. Telesat appointed Glenn Katz to its newly created chief commercial officer role, and promoted Tom Eaton to president of its government solutions unit. Spire promoted Theresa Condor to COO; She'll oversee the company's weather, aviation, Earth intelligence, and space services units.
Announced last night: Maxar has appointed Thomas Whayne as chief strategy officer. Whayne was OneWeb's CFO from 2018–2021.
---
The View from Space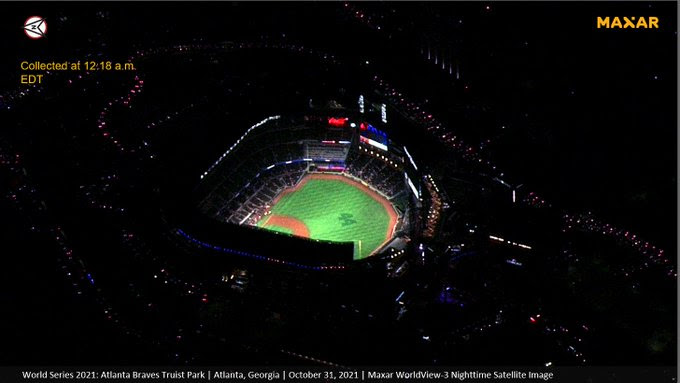 Maxar tweeted this shot of Truist Park, where the Houston Astros hung on Halloween weekend against the Atlanta Braves. The World Series is now headed back to Houston. Any satellite operators out there care to send over a nighttime shot from Game 6 tonight?