Good morning, and happy Monday. For all our Formula 1 fans out there, yesterday was quite the thrilling finish in Austin. Two-thirds of the Payload team were transfixed by the US Grand Prix—and one of us was actually at Circuit of the Americas.
Today's newsletter:
🌕 Airbus backs ispace
⚔️ US space guard?
📅 The week ahead
---
From Airliners to Moon Landers
Airbus Ventures announced this morning that it's invested in ispace. The moon exploration startup was one of five finalists in Lunar XPRIZE, Google's $30M lander competition. While no team ultimately won the grand prize; the competition was still successful in kicking off a wave of privately funded companies who have their sights set on the moon.
Meet ispace. Headquartered in Tokyo, the startup also has offices in Denver and Luxembourg. ispace designed its first-gen lunar lander in Japan. That lander, which is currently undergoing final assembly in Europe, is expected to launch on a Falcon 9 in the back half of 2022. Goes without saying…but lunar operations are pretty capital-intensive: Today's deal brings the cislunar company to approximately $200 million in total funding.
The timeline: M1, ispace's first mission, will perform a soft landing on the moon and deliver payloads for the UAE's Mohammed bin Rashid Space Centre (MBRSC), the Japan Aerospace Exploration Agency (JAXA), and companies form Canada and Japan.
M2, targeted for 2023, will deploy a rover to explore the lunar surface and perform in-situ measurements.
M3 and beyond are expected to increase the launch cadence and payload capacity of the privately funded, moon-bound robo-rovers.
Airbus POV: The company's VC arm has a "rapidly developing" investment thesis focused on harnessing lunar resources "to deliver clean energy, rare metals, and biosphere-friendly manufactured products to Earth," Airbus Ventures Partner Lewis Pinault said in a statement. "We see the Moon's development as a key solution to humanity's planetary system crises."
Looking (pretty far) forward…ispace believes that the moon will have a permanent population of 1,000 humans by 2040, plus 10k visiting each year. While we'll have to check back then to see how this prediction fares, clearly, the next few years will be pivotal in scaling up cislunar operations.
---
A Space National Guard?
A political battle is a-brewin' over the formation of a Space National Guard, which could "bring in citizen guardians with private-sector experience," Politico reports.
In favor? The National Guard, for starters. Spearheading or supportive of the idea? Elected officials from Colorado, Florida, Hawaii, and other US states with strong bases of space activity. In the 2022 National Defense Authorization Act (NDAA), passed in September, the House calls for a Space Guard to be stood up within 18 months.

Opposed? The White House strongly opposes the creation of a Space National Guard, saying it wouldn't deliver "new capabilities" and would just "create new government bureaucracy."
Takeaway: While the gears of government grind slowly—and it may be premature to be discussing space reservists—the proposal represents a priority for some lawmakers and members of the US military. We'll keep tabs on Space Guard chatter and come back with updates, when and if there are any.
---
SPONSORED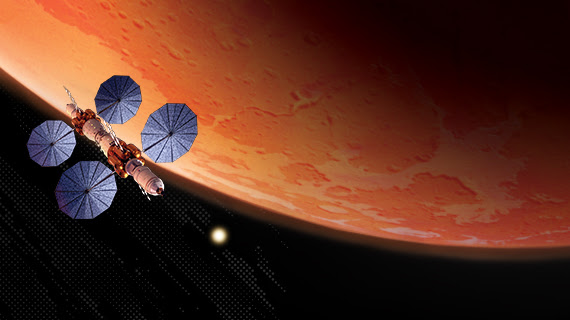 Those solving the hardest challenges in space will define its future. At Lockheed Martin, we have a bold vision for what that future will be. From exploration to defense, Lockheed Martin helps our customers protect, connect and explore, with products like missile warning systems, GPS, weather satellites, and Mars rovers. Learn More.
---
In Other News
---
📅 The Week Ahead 📅
Today: A Chinese Kuaizhou 1A rocket will launch a small satellite as part of the Jilin 1 Earth observation constellation. Also, the 72nd International Astronautical Congress (IAC) kicks off in Dubai.
Tuesday: Lockheed (NYSE: LMT) reports Q3 earnings.
Wednesday: A Soyuz rocket will launch the 79th Progress cargo ship to the International Space Station (ISS).
Thursday: Astra will attempt its next orbital launch, carrying a non-deployable test payload into orbit for the U.S. Space Force and the Space Test Program.
Saturday: China will launch the Yaogan-32-02 reconnaissance satellite, which experts assume to be designated for military purposes.
Sunday: A SpaceX Falcon 9 rocket will launch its fifth crewed flight (Crew-3) to the ISS. NASA astronauts Raja Chari and Thomas Marshburn, European Space Agency (ESA) astronaut Matthias Maurer, and NASA mission specialist Kayla Barron plan to spend six months on the station.
---
The View from Space
The Strait of Gibraltar, as seen from the International Space Station (ISS). Per ISS commander Thomas Pesquet: "Spain and Morocco seem to be wanting to touch each other, or protect the Mediterranean Sea from the waves."