Good morning. Today marks the end of week #2 of Payload as a daily newsletter. We hope you're enjoying it as much as we are. Don't forget—feedback always welcome!
In today's newsletter: 

 Starlab 

 Lynk Q&A

 Contract report
---
New Space Station on the Block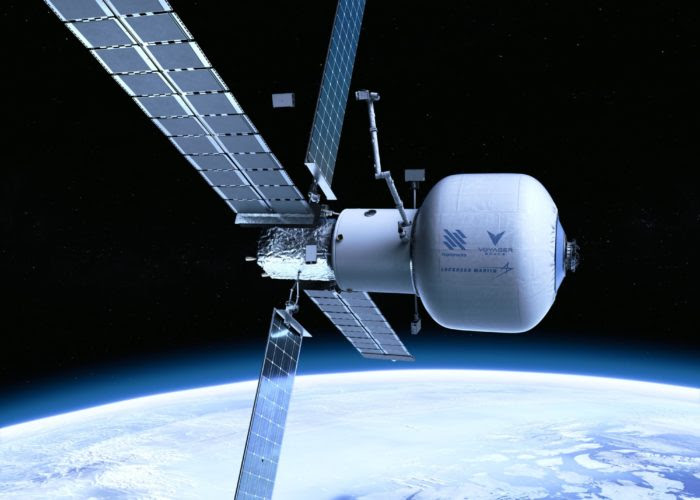 ICYMI: Nanoracks and Lockheed Martin have announced a partnership to develop and launch Starlab, a free-flying commercial space station in low-Earth orbit (LEO).

Nanoracks, which is majority owned by Voyager Space Holdings, expects Starlab to "achieve initial operational capability" by 2027. The continuously crewed station will double as a research site and commercial hub. Commercial use cases could manufacturing in microgravity and tourism. Starlab will be able to host up to four astronauts at once.

The long game: Based in Houston, Nanoracks was founded in 2009. "Since the beginning, Nanoracks has sought to own and operate a private space station to fully unlock market demand," CEO and cofounder Jeffrey Manber said. "Our team has spent the last decade learning the business of space stations, understanding customer needs, charting market growth, and self-investing in private hardware on the ISS."
"We have invested significantly in habitat technology which enables us to propose a cost-effective, mission-driven spacecraft design for Starlab," Lockheed VP Lisa Callahan said.
Worth mentioning here: NASA's Commercial LEO Destinations (CLD) program, announced in May. CLD will see space station functions outsourced to the private sector. If successful, CLD could also cut costs à la NASA's Commercial Cargo and Crew programs. CLD-funded infrastructure could also replace the International Space Station (ISS), due to be decommissioned near the end of the decade.
NASA plans to allocate up to $400M in CLD funding to as many as four separate companies. 
Axiom Space and Sierra Nevada Corp are two other companies to watch here, as both also have plans for private space stations.  
---
Putting Cell Towers in Space
Last month, Lynk claimed a first: two-way satellite-to-smartphone connectivity. The breakthrough wasn't the connection, but that Lynk satellites communicated with everyday mobile devices. Phones were talking to satellites without any special receiver.

Lynk is raising a new round of funding, negotiating contracts with mobile carriers, and preparing for Gen-1 satellite production, CEO Charles Miller told Payload in an interview. Miller is a serial space entrepreneur who cofounded Nanoracks, among other companies.

Cell towers in space…That's the gist of what Lynk wants to build. With a minimum viable product up and running, Lyft will go to market offering SMS messaging only. "The dirty little secret," Miller said, is that low-Earth orbit (LEO) satellites are still highly capacity-limited.
"Once we have enough capacity, we'll be able to flip a switch and add voice or data. We'll eventually offer those higher value use cases." But that will require a full, 1,500+ constellation and more powerful, complex satellites.
And that's a ways away. In the near-term, Lynk is targeting July to launch its commercial service. The company has already announced two carriers—Aliv in the Bahamas and Telecel Centrafique in the Central African Republic—that will tap its satellite-to-phone service. In the US, Lynk has filed an application for an FCC license. 

+ Want more? To read about satellites "lying" to your phone, how Lynk stacks up against Starlink, and what Miller would do if he "had Elon money," check out the full Q&A here.
---
SPONSORED
Firefly Aerospace provides cost-effective, convenient access to space for both full-vehicle and ride-share missions. Firefly's Alpha launch vehicle is capable of delivering 1,000 kg to LEO and 630 kg to 500 km SSO. Email [email protected] to discuss your mission!
---
In Other News
---
Weekend Reads
Interesting items from around the world—and web—to send you off into the weekend.
 A breakdown of Taiwan's plans to develop a robust, indigenous space economy (TechTaiwan). Seeing as Taiwanese state planning helped spawn one of the world's most valuable companies—TSMC—it'd behoove us to follow along closely. 
 An overview of South Korea's push to create a homegrown space sector, following KSLV-2's flight (Reuters). The country will invest $3.1 billion to create its own GPS. "The 'Korea Space Age' is approaching," Pres. Moon Jae-in said. 
 A market map of the German new space ecosystem (Capitol Momentum). 
Ex SpaceX engineers are designing a cost-effective, highly portable nuclear microreactor that could supposedly power 1,000 homes (Input).
 Robots in Space President Gordon Roesler makes the case for a superhighway in space (The Hill).
 Not a read, but we'll allow it: Space Strategy pod with Col. Eric Felt, director of the Air Force Research Lab Space Vehicles Directorate, on cislunar commerce, in-space search and rescue, power-beaming, and more (American Foreign Policy Council).
---
The View from Kennedy Space Center
Started from the bottom now we're here. (Photos: NASA)