Good morning. Russian director Klim Shipenko and actress Yulia Peresild were able to film about 30 hours while at the International Space Station. Only half an hour will make it into the final movie, Shipenko said this week.
Our imaginations are running wild at this point. We're almost more curious to watch the footage that doesn't make the final cut. How do we get our hands on the blooper reel?
In today's newsletter:

SpaceX "flywheels"

Iridium's Q3

Term sheet
---
Can Anyone Catch SpaceX?
That's the question posed by a Morgan Stanley Research team in a recent, updated note to investors. Spoiler alert: The analysts seem to believe the answer is no.

Payload read and digested the updated memo, which was first covered Tuesday by CNBC. For starters, the report is front-loaded with choice quotes from investors:
"More than one client has told us if Elon Musk were to become the first trillionaire…it won't be because of Tesla."
"Others have said SpaceX may eventually be the most highly valued company in the world."
"As one client put it, 'talking about space before Starship is like talking about the internet before Google.'"
Two peas in a pod
SpaceX's rocket and Starlink businesses reinforce one another, the analysts write. As launches get cheaper and more frequent, it gets easier to deploy a full megaconstellation without breaking the bank. Since a full deployment requires the launch of thousands more satellites, Starlink represents an ultra-reliable "customer" for SpaceX's rocket business.
The $100 billion space company has a double flywheel, the analysts write. It works something like this:
As more rocket components graduate from expendable to reusable, launch costs could drop more. And launch cadence increases. Those unlocks, coupled with improved payload capacity and propulsion capability, could win SpaceX share in the heavy-launch market.
Starlink gets better with scale, both from the network and end user perspective. Scale (and intersatellite links) help improve the coverage area, which in turn expands the addressable market of users and use cases. And all this, in theory, drives down production costs (TBD).
Starlink projections: In Morgan Stanley's bull case, Starlink alone eventually reaches ~$133 billion in enterprise value (base case = ~$81 billion, bear = $0). That's not the only eye-popping projection: The analysts estimate that Starlink's buildout will cost ~$240 billion, burn $33 billion from 2020–2030, and become cash-flow positive in 2031.
Under this projection, user terminals would be the most expensive line item, responsible for ~83% of all Starlink buildout costs.
Risk factors: What could get in the way of SpaceX's plans for intergalactic domination? The analysts cite four types of risks: regulatory, execution, financial, and competition.
---
Iridium's Q3 Haul
With all the talk of satellite constellations in beta or build phase, we figured we'd check up on one that's fully up and running.

Satellite operator Iridium reported Q3 earnings Monday. The McLean, VA-based company generated ~$162 million in Q3 revenue, a 5.5% beat. Its net loss was $2.1 million.
Commercial services revenue totaled ~$102 million, equal to roughly 63% of Iridium's Q3 haul.
Equipment sales ($26.9M, 17%) narrowly edged out government services revenue ($25.9M, 16%), with engineering/support making up the remainder.
Backstory: Launched from eight Falcon 9s in 2019, the 2nd-gen IridiumNEXT constellation consists of 66 operational satellites and nine spares. Coverage extends across all of Earth.
You can find Iridium satellite terminals in planes and boats. You can also find internet of Things (IoT) equipment, Garmin devices, and phones tapping Iridium's constellation for connectivity.
As of Sep. 1, Iridium's network had 1.1 million IoT connections, with 71,000 net activations in Q3. In the "personal communications devices" department (read: phones), 500,000+ devices leverage Iridium's network for voice and data services.
Supply chain stress: Semiconductor shortages have disrupted production of some Iridium IoT modules. The company expects a return to normalcy by summer 2022. Iridium CEO Matt Desch said he wished "we were less constrained by the shortage, especially as we see demand outstripping current supply."

Closing thought: "We believe that the adoption of satellite connectivity into mass-scale, consumer-oriented devices is inevitable," Desch said on a call with analysts. He declined to discuss rumors about a future satellite-connected iPhone.
---
SPONSORED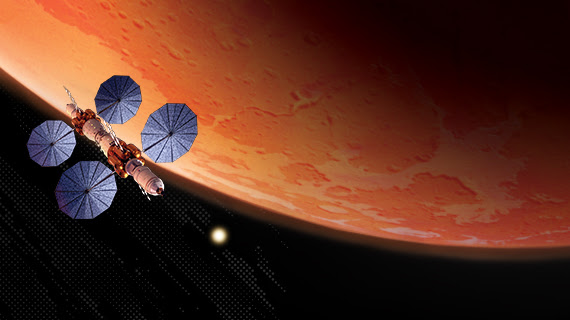 Those solving the hardest challenges in space will define its future. At Lockheed Martin, we have a bold vision for what that future will be. From exploration to defense, Lockheed Martin helps our customers protect, connect and explore, with products like missile warning systems, GPS, weather satellites, and Mars rovers. Learn More.
---
In Other News
---
The Term Sheet
---
The (Rendered) View from Boca Chica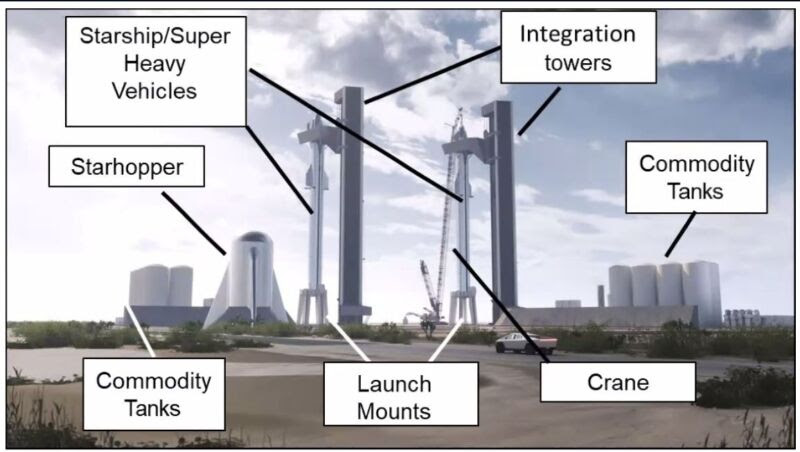 This graphic surfaced in the FAA's Monday hearing, offering a glimpse of how SpaceX sees its orbital launch site taking shape in south Texas. Just one minor quibble: The site will probably have many, many more Cybertrucks.